ALLIANCE

Overview of the R-body Alliance Concept
People need medical treatment to cure an illness.
For that reason, hospitals exists.

People need exercise for an active, healthy life-style.
For that reason, R-body exists.

R-body aims to enhance people's life performance.
To make this happen, we have built a comprehensive structure of services that includes tie-ups with medical institutions, educational resources, and on-site conditioning.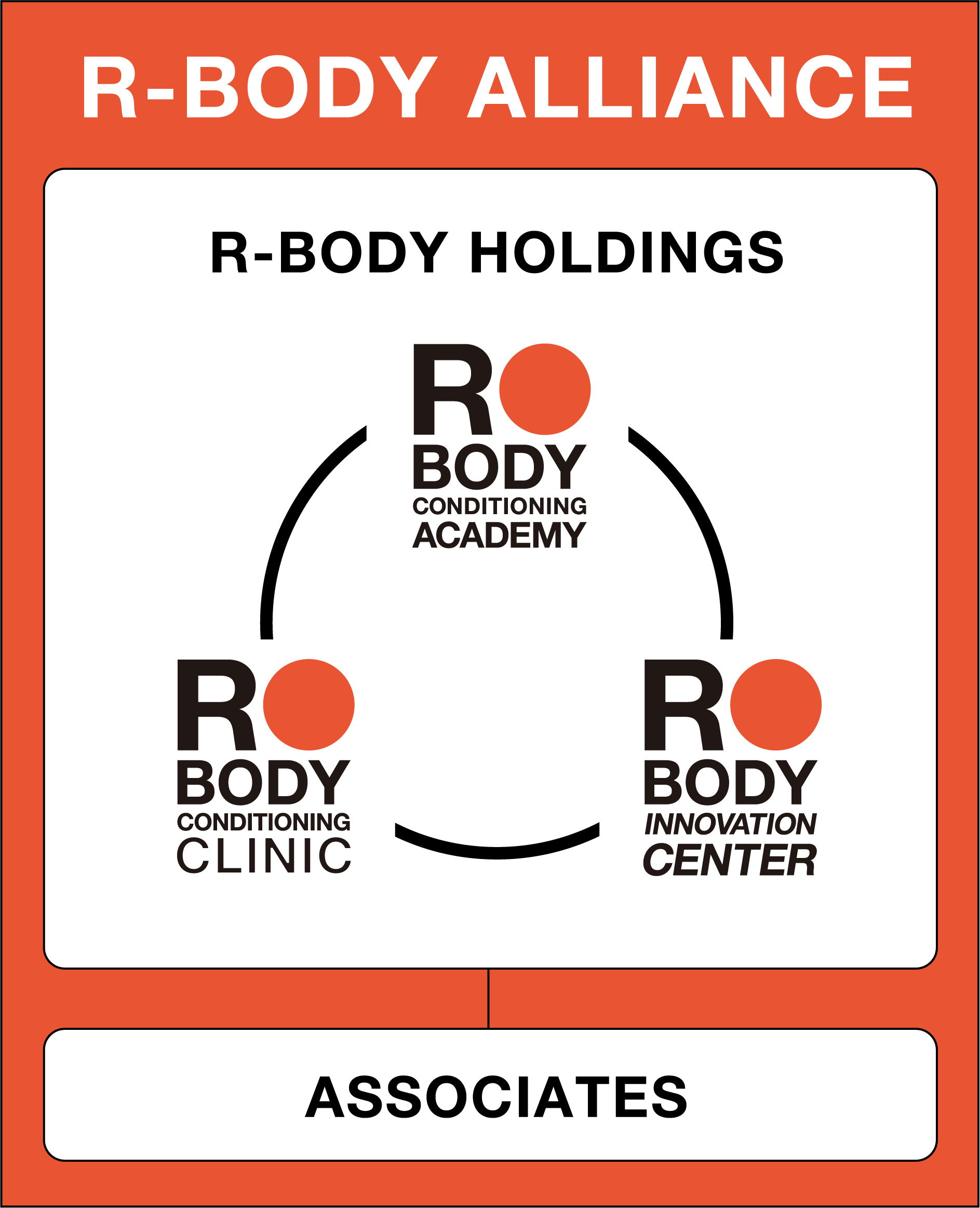 R-BODY HOLDINGS
R-body and K-Medical Associates formed a new holding company called R-BODY HOLDINGS, with the aim of providing high-quality conditioning services under the motto of Exercise is Medicine. We believe that conditioning is vital for improving the life performance (quality of life) of not only professional athletes, but also the general public. At the same time, conditioning also acts as a pillar of medical care in terms of both injury rehabilitation and prevention. Our goal is to provide pioneering, high-quality conditioning services by combining medical care with athletic training knowledge and skills. Furthermore, R-body Holdings will continue to engage in future collaboration with various medical facilities and health / sports related companies (ASSOCIATES) that are committed to the idea of "Total Conditioning for Life Performance". In this way, we plan to build a total conditioning network to support our clients needs and provide pioneering services for the medical and training industries.
R-BODY CONDITIONING ACADEMY
Our R-BODY CONDITIONING ACADEMY is not just a place to exercise, but also a "place of learning". Under the concept that one should not only train the body, but also the mind, the academy was established as a place where people can learn conditioning knowledge and correct exercise form in order to improve their overall life performance. At each facility, a full support network is in place, allowing clients to train to get themselves into their best condition, whilst at the same time learning about their body and gaining knowledge of conditioning. In addition to offering expert training and rehabilitation services by R-body conditioning coaches, we also plan to offer a full range of medical services through our newly established R-body Conditioning Clinic, which will offer guidance on everything from nutrition to dentistry. Furthermore, by collaborating with the R-BODY INNOVATION CENTER (described below), we will constantly have access to the latest evidence-based knowledge and clinical data that we can incorporate to provide the highest-quality conditioning services for our members and clients.
R-BODY CONDITIONING CLINIC
The R-BODY CONDITIONING CLINIC is a clinic run by the medical corporation K-Medical Associates. The clinic will take charge of medical consultation services and support the R-body Conditioning Academy from a medical viewpoint. In addition, we will set up a sports medicine research institute inside the clinic to collect and verify information on conditioning data from around the world, and carry out activities that contribute to the spread of total conditioning support in line with R-body's philosophy and vision.
R-BODY INNOVATION CENTER
The R-BODY INNOVATION CENTER is a research institute that serves as an International Center of Excellence for conditioning, and is jointly operated by R-body and the medical corporation K-Medical Associates. Acting as a global research base for conditioning related matters, the facility will also operate a practical research center called the Conditioning R&D Lab, which will analyze and test out the data received from our R-BODY CONDITIONING CLINIC, allowing us to constantly update the services at our training facilities, to ensure the latest scientific data and practical knowledge is being applied.