COURSE
R-Conditioning Coach
Our R●ACADEMY produces top-class R-Conditioning Coaches.
Our R●ACADEMY is an R-Conditioning Coach development center.

At R-body project, since opening in 2005 we have held over 250,000 personal training sessions for over 5,000 members, including over 150 top professional athletes. This has allowed us to accumulate vast amounts of data and a wealth of practical experience. Following years of extensive research that drew on this data and knowledge, in February of 2017 we finally produced our own original training method, entitled "Training Principles for Real Results". Trainers who have studied this method, and are thus "able to use conditioning training to solve physical problems based on functional movement assessments" are defined as R-Conditioning Coaches.
Illustration of R-Conditioning Coach Service Flow
S・O・A・P®

 Perform a functional movement screening assessment based on the theory of functional training.
 The assessment uses counseling, posture check, and FMS/SFMA (*1) as part of a movement screening evaluation, and then uses these results to perform a functional movement analysis to determine the cause of any physical faults found. The aim of a S・O・A・P® evaluation is to determine the client's current physical condition, and then explain any problems in a clear and easy to understand way. *1 FMS/SFMA are registered trademarks of Functional Movement Systems, Inc., a USA based company.

Conditioning Program Design

 Use the results of the S・O・A・P® evaluation to create a conditioning program based on the latest practices in sports medical science.
 If we think of creating a training program as being like creating a meal, then our "ingredients" are "training knowledge and qualifications", and the "cooking" is the "program design". The cooking part determines how great the meal tastes, or in our case, how effective the training program is. In other words, knowledge alone is not enough, we need to use it effectively to produce real results for our clients.

R-Conditioning (Training)

 Develop an eye for checking functional movement in order to offer appropriate conditioning sessions that are tailored to each client's needs.
 Furthermore, learn "Effective Communication Strategies for Trainers" based on our Reach Program. This will allow you to impart your knowledge to clients, ensuring the results of the S・O・A・P® evaluation can be used to produce effective and real results.
R-Perfomance Coach
R-AT
NASM-PES
If you have an internet connection, by taking our NASM-PES Online Certification Course, you can study a full curriculum of international standard content through to the certification exam itself.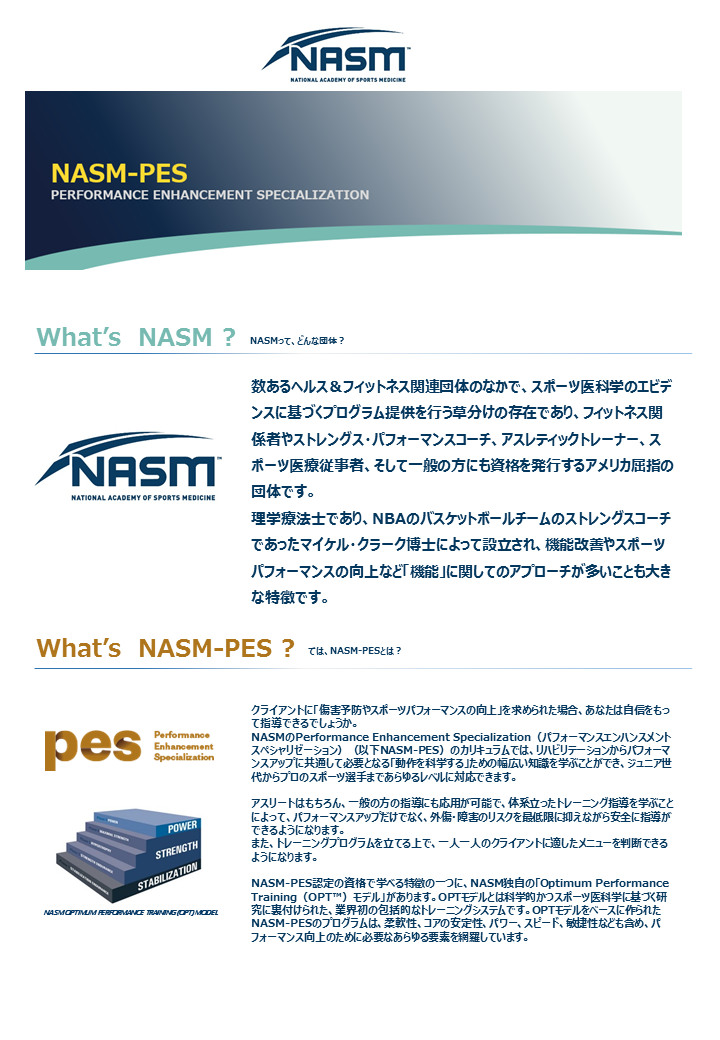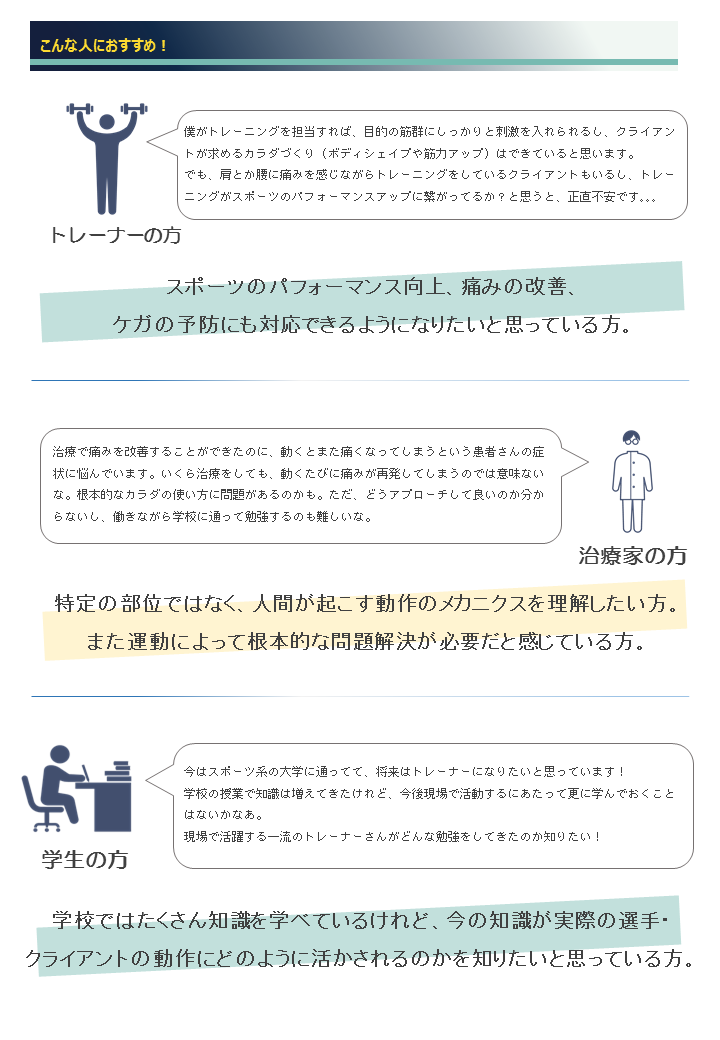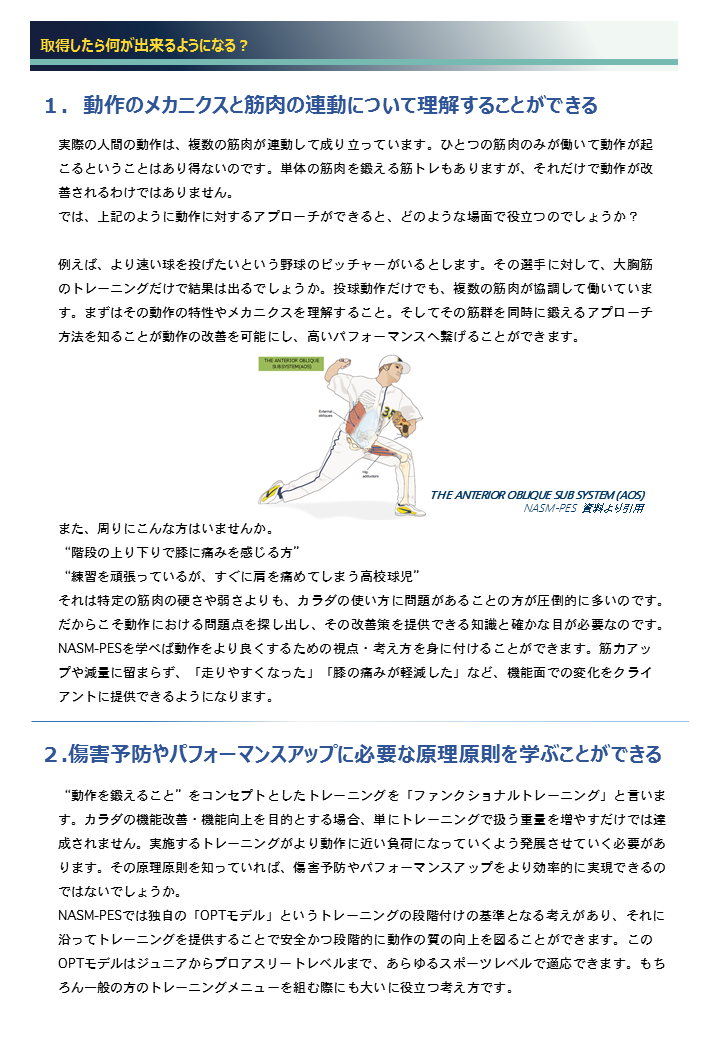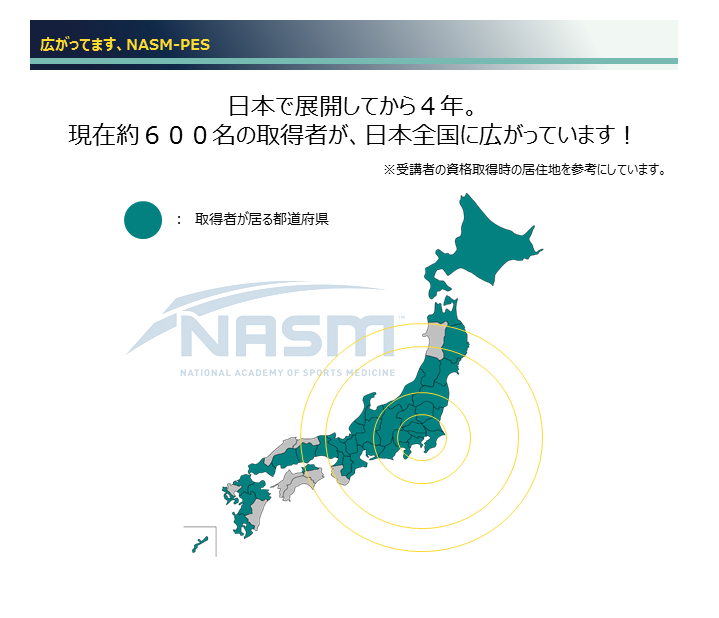 Course Overview
Course Name
NASM-PES Online Certification Course
Applicable for:
Personal trainers, athletic trainers, strength & conditioning coaches, physical therapists, acupuncturists, judo therapists, etc.
Contents
· Access to Japanese lecture video series (16 parts; 17 hours of video content)
· Japanese textbook for lectures
· Short practice tests for exam (16 parts in total)
· English textbook (647 pages)
· Access to NASM Official Site (Exercise Library, etc)
· Right to take the Japanese version of the certification exam
Regular Tuition Fee
¥129,600 (including tax)
*price includes all the contents listed above
Special Tuition Rate for Students
(Discounted rate for college students)
¥90,720 (including tax)
* Limited to students in their final year (about to graduate) at either vocational colleges or universities.
Also applies to students who have graduated from colleges that are affilitiated to this certification.
※ Various documents are required to qualify for the discount. Please click below for details.
⇒【 [Student Discount Guide】
Examination Eligibility Requirements
1) People who graduated with a 4-year university degree (regardless of faculty), or from a Japanese sports trainer / medical vocational college.
Prospective graduates (expected to graduate in March of 2017) are also eligible.
2) People who hold relevant qualifications (NSCA, ACS, NESTA, ACSM, AFAA, etc) from accredited USA bodies such as NCCA, NBFE and DETC.
※ Only people who fall under ① and/or ② above will be eligible for certification.
Curriculum Details
Chapter 1: Overview of Integrated Training
Chapter 2: Introduction to Human Movement Science
Chapter 3: Sports Performance Testing
Chapter 4: Flexibility Training for Performance Enhancement
Chapter 5: Cardiorespiratory Training for Performance Enhancement
Chapter 6: Core Training Concepts for Performance Enhancement
Chapter 7: Balance Training Concepts for Performance Enhancement
Chapter 8: Plyometric Training Concepts for Performance Enhancement
Chapter 9: Speed, Agility and Quickness (SAQ) Training for Performance Enhancement
Chapter 10: Integrated Resistance Training for Performance Enhancement
Chapter 11: Olympic Lifting for Performance Enhancement
Chapter 12: The Science of Periodization and The Optimum Performance Training (OPT) Model
Chapter 13: Current Concepts in Injury Prevention
Chapter 14: Performance Nutrition
Chapter 15: Ergogenic Aids
Chapter 16: Performance Psychology: Integrating Physical and Mental Training
Flow from Application to Certification
1) Create a Google account
▼ Click here to be taken to the official site
*Necessary to access lecture videos on our site. (People who already have a Google account do not need to create a new one)

2) Register using our application form
▼ Application form

3) Payment of tuition fee
Please transfer the fee into our designated account within 7 days of sending your application email.
* We will reply with an application confirmation email, stating the bank account information.

4) Start studying online
You will be granted access to the Online Study Site as soon as we confirm payment of the tuition fee.
Various study materials will be available to download.
*You will be granted access to the Online Study Site for 1 year.

5) Receive English textbook
We will post your English textbook after confirming payment (please allow 1 – 2 weeks).

6) Receive email from NASM about accessing their Online Examination Site
Within 20 days of payment confirmation, you will receive an email from NASM about accessing their Online Examination Site.
※ The online examination deadline is one year from date of receipt
※ You can take the examination up to 3 times.

7) Take the online examination
You will be given a pass or fail mark instantly.

8) Receipt of certificate
Your certificate will be posted within about 2 months of passing the examination by NASM in the USA.
After passing the online test, a simplified version of the certificate will be available for download from the Internet.
*Students will be sent their certificate after they provide (by post) a copy of their graduation certificate from the relevant college.
Recommended system requirements
· Recommended screen size: 1280 × 1024 pixels or more
· Recommended connection speed: 1 Mbps or more
· Adobe Flash Player (Version 10.0.0 or later)

[Operating system]
· Windows 7 or later
· Mac OS X 10.7 or higher
· Ubuntu 10 or later
· Linux OS 11 or later (64 bit)
Download the Brochure
NASM-PES Online Certification Course
A brochure is available for download.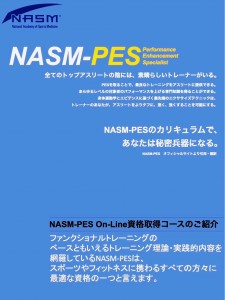 ↑ Click the image to proceed to the download page
Educational Loans
The NASM-PES Online Certification Course is affiliated with financial institutions.
Educational loans from affiliated financial institutions can be used to make payments in installments for the tuition fee.
Please contact the Academy Department if you would like to apply for a loan and pay in installments.
· Academy Department(academy@r-body.com)
· The affiliated financial institutions will conduct a background check before issuing the loan.
· Payment may be split into 3 – 36 installments.
Seminar Information
Currently no seminars are scheduled.
Information will be posted as soon as dates are fixed.
Q&A Frequently Asked Questions
About the NASM-PES Certification
Q1. What kind of people apply?

Personal Trainers, Athletic Trainers, Strength & Conditioning Coaches, Physical Therapists, Acupuncturists, Judo Therapists, Students studying to be a trainer, Instructors of trainers at educational institutions, etc.
It is also a feature of this certification that many applicants are also qualified medical personnel.
Q2. How widely recognized is this certification?

Both in Japan and overseas, it has become recognized as a certification obtained by many high-ranking trainers, and as such more and more companies are making the NASM-PES certification a requirement for certain positions.
Examination Details
Q1. Is there a time limit for taking the exam?

You have one year from the date of getting your first email from NASM (America) to take the online certification exam.
Q2. How many times can I take the exam?

You can take it up to 3 times during the year. There are 100 questions and you need to answer at least 70 questions correctly to pass the exam.
Q3. Is it possible to take the exam after the eligibility period has expired?

It is not possible to take the exam after eligibility period has expired. Please take the exam within the 1-year period.
Q4. After obtaining the certification, will it expire after X number of years?

No, the certification will not expire.
Once you get the certificate, you do not need to take brush up courses or other renewal procedures.
Q5. What kind of exam preparation material is available?

1) You can view online lecture videos as many times as you like for one year after signing up for the course.
※ English version of NASM-PES
There are currently no lecture videos for the online course in English, only Japanese version are available.

2) You can check your understanding of each chapter by taking the short tests.
Q6. Is the textbook in Japanese?

The slides used for the online lectures are all in Japanese. These slides can also be downloaded.
The main English textbook is issued by NASM in America, and contains 647 pages of content.
Q7. What is the pass rate?

The pass rate is _______. However, you can improve your chances by taking the short tests for each chapter on the Japanese version of the site and by viewing the online lecture videos repeatedly to boost your understanding.
Both trainers and regular people have managed to pass the examination after using the support mechanisms listed above.
Fees & Expenses
Q1. Is the exam fee included in the tuition fee?

Yes, the tuition fee includes the examination fee. There are no charges other than the tuition fee.
Q2. Do I need to pay an annual renewal fee, etc, for maintaining my certification?

No, it is not necessary to pay an annual renewal fee or other expenses for maintaining your certification.
Q3. Can I pay the tuition fee in installments?

Yes, it is possible to pay in installments.
However, you will need to be approved by an affiliated financial institution.
For details, please refer to the section [Educational Loans].
Q4. What's the cancellation policy?

In principle, it is not possible to cancel or get a refund once you have paid the tuition fee.